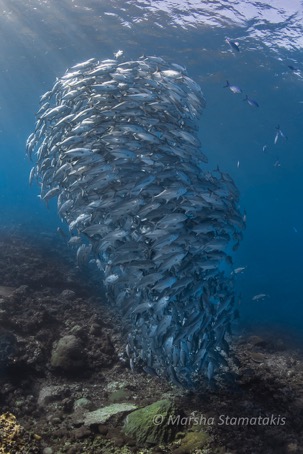 The weather has been absolutely magical during this last 11 night trip and the divers onboard have made full use of it. We have been diving our way up to the Marovo Lagoon area of the Western Province with two days at Mary Island and time in the Russell Islands, at the wrecks along Guadalcanal and in the Florida Islands.
Onboard we have our long time regulars Jack and Sue Drafahl who have been bringing groups onboard the Bilikiki every year since 2004. Joining them was a great bunch of divers many of whom had been onboard before too.
The diving has not disappointed, we have seen sun dappled caves and cuts, an assortment of nudis, crocodile fish, leaf scorpion fish, cuttlefish, pygmy seahorses and a couple of ghost pipefish. Plus we have been treated to sharks, eagle rays, schooling jacks over stunning reefs, soft coral covered WW2 wrecks teaming with reef fish and some curious turtles.
Apart from the diving the divers really enjoyed the carving markets and many people went home with some stunning carved pieces. I'm not sure who was entertained more in Karumolun village, us watching the traditional singing and dancing or the villagers when Jack flew his drone around to the delight of everyone there.
A big thank you to the wonderful Bilikiki crew and managers, Pato & Fernando, for looking after us for 11 nights. It was an amazing trip! Thank you to Marsha Stamatakis for the underwater photos.
Cheers
Kellie