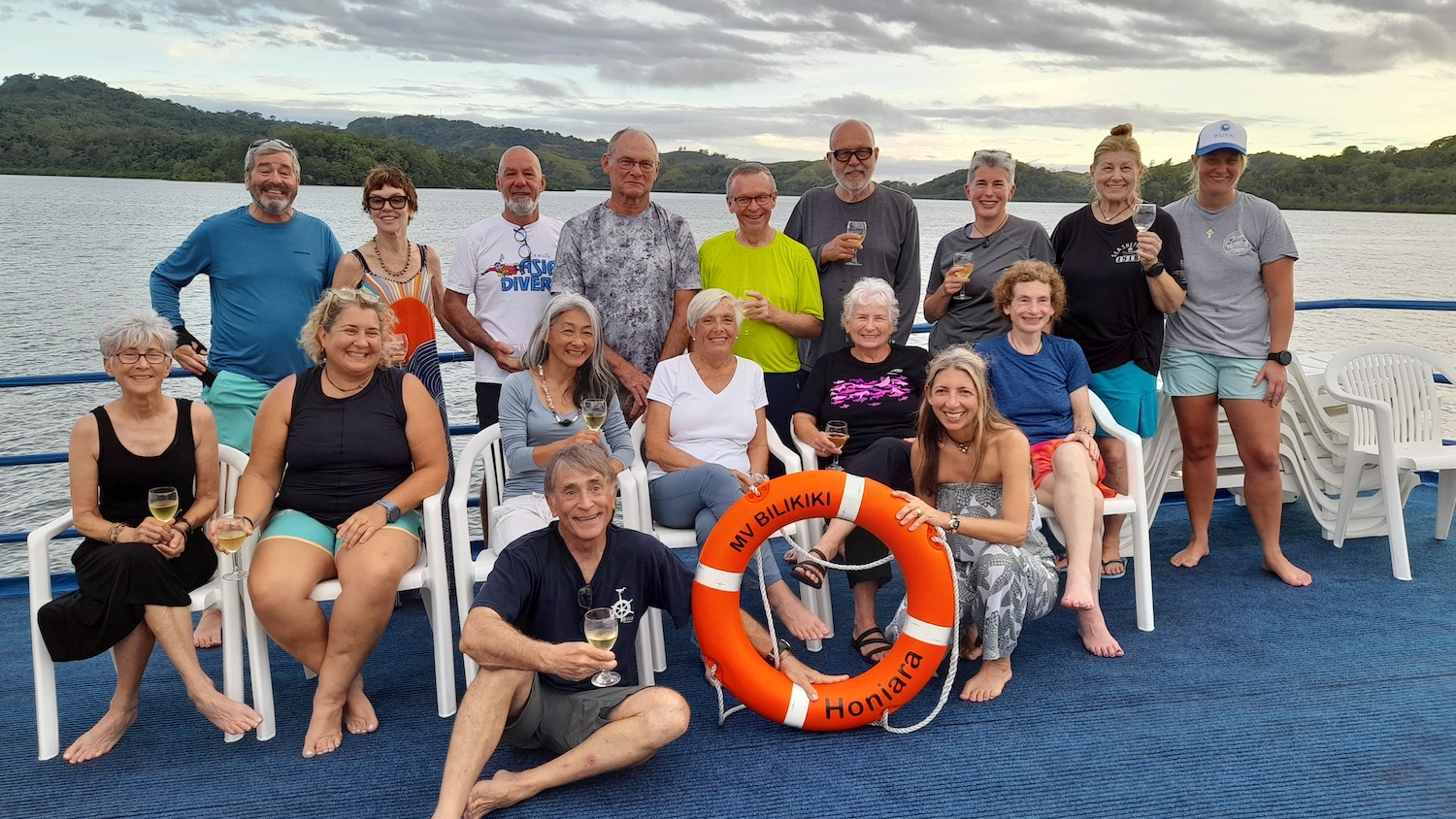 Bilikiki just finished 14 days of diving the beautiful reefs and wrecks of the Solomon Islands in the company of a great group of people under the leadership of Tanya Burnett's Island Exposure. It was again fantastic to see some familiar faces amongst the group from previous trips here on Bilikiki. At the start of our trip we were spoiled by sunny skies and crystal clear water while diving Leru Cut in the Russell Islands. The sunlight created beautiful light beams inside the cut and made the sandy bottom glow in turquoise blue, what a stunning sight with many pictures taken to keep the moment.
Even in sometimes challenging weather conditions our guests enjoyed diving with big schools of jacks and barracudas, grey reef sharks, bumphead parrot fish, clouds of pyramid butterfly fish and snappers, but also eagle rays and a mobula ray. At Mbulo in Marovo Lagoon the macro lovers were treated to tiny pygmy seahorses in the stunning coral gardens, while a number of turtles joined us during our dives. Soft coral crabs, garden eels, flatworms and colorful nudibranchs were a delight to see during our dive on the wreck of the Ann, and once again, we saw the elusive tube guardian crab - what a sight to see!
We finished our trip with a cruise through the "Popcorn Passage", where the villagers paddle alongside the Bilikiki trying to catch a bag (or more) of popcorn in a biodegradable bag, prepared by our chefs - what a great laugh for guests and villagers alike!
A massive thank you goes to Tanya and all her guests for joining us on this trip, we hope to see you again very soon!
And once again a huge thank you to our incredible crew for their continued hard work!
For us (Tina and Oli) this was the last trip of this year's season, but we are looking forward to seeing you again next year to dive and explore the Solomon Islands!
Thank you - Tagio tumas
Tina & Oli

Underwater photos and crew photo thanks to Tanya G Burnett (Island Exposure).