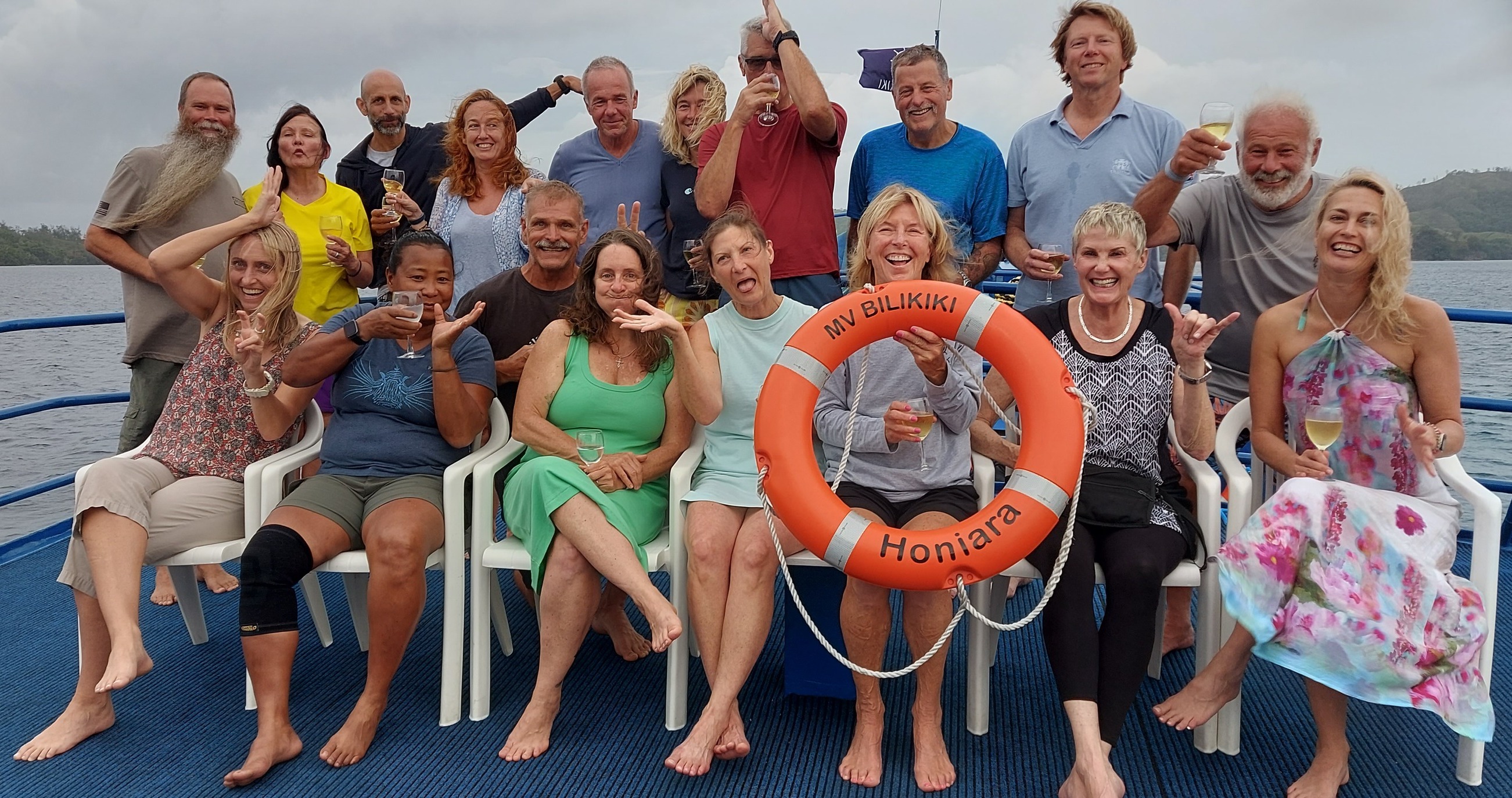 The Bilikiki is back from a fabulous 11 night trip with a great bunch of divers. Everyone enjoyed the freedom of the diving onboard the Bilikiki to follow along or to do their own thing. Many divers took advantage of the "open pool" afternoons where divers could dive when they wanted for as long as they wanted with their buddies.
What did we see on the dives you ask? Well we saw loads of incredible things including my favourite the ghost pipefish (ornate and robust), plus there was pygmy seahorses, real sized seahorses, pipefish and pipe horses, a sea moth, leaf scorpionfish, cockatoo waspfish, banded sea snakes, a fair few cuttlefish, crocodile fish, octopus plus the other usual suspects of hundreds of tropical reef fish, invertebrates and corals! Basically the diving was amazing! To start with we thought it was the trip of the mobula ray as we saw at least one on almost every dive for the first few days. We even saw them jumping out of the sea while we ate nibbles watching sunset! Then I thought it might be the trip of tunas as we have some great dives where tunas almost as big as me cruised by to check us out. But I think it might have been the trip of the schooling batfish (spadefish) as I don't ever remember seeing so many schools of batfish at different dive sites. I love those cute friendly fish!
If the marine life wasn't enough we also had the cave and cut dives where we were treated to great viz and heaven like beams of light streaming down to illuminate the darkness of the caves. A truely magical experience!

It is always hard to narrow down a "best" dive of the trip but for me it was tie between Barracuda Point at Mary Island where we were treated to massive schools of barracuda and jacks plus the occasional shark, tuna and wahoo and Kicha which just had so many schools of different fish, the most diverse amount of coral and the biggest tunas ever! A close third for me was the long shallow dive at Maravagi Bay, finding a cucumber butt crab and asking others to look up a cucumbers butt to see it was a highlight It really is a pretty crab!

A big thank you to Pato, Fernando and all of the Bilikiki crew for looking after us so well.
I'm looking forward to being back soon!
Cheers,
Kellie

Photos thanks to Bob Pecoraro.